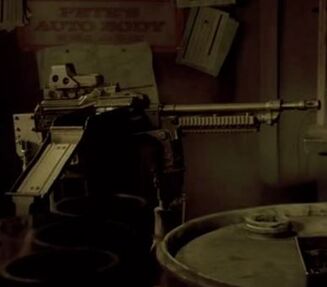 Inscribed on the entrance to this room were the words: "'Gibson see for yourself."
Description
During Bobby Dagen's 5th trap of his test, which was the Wisdom Teeth Combination part, Detective Matt Gibson and two of his officers went to catch Detective Mark Hoffman, where he was located in the video, and try to arrest him. He found the observatory room where Hoffman had been watching. But instead of finding Hoffman in the chair, he found Dan in the chair, the man who had his jaws and arms ripped off from the Horsepower Trap behind the car, while Hoffman swapped places with him and went into the gym bag that Dan was in. After Gibson realizes that Hoffman was watching over them the entire time, Gibson tries to call Palmer but before he could tell her about Hoffman, an automated belt-fed machine gun on an oscillating turret rose from its hiding place in the corner and was activated, shooting Gibson and his two fellow officers in the process and killing them. Palmer listened to their deaths and all she could do was helplessly ask for someone to answer. 
Trivia
The machine gun used in the trap is a Soviet PKM (Pulemyot Kalashnikova Modernizirovanniy) in BHI SOPMOD dress fitted with an EOTech sight. It is chambered in 7.62x54R. A belt-fed weapon, it appeared to be using a 50 round belt loaded with brass-cased ammunition, being fired from a .30-caliber steel ammo can attached to the side of the gun. This particular PKM also had the second flash hider design on it. Some parts appear to have been removed to lighten the weapon, such as the stock, pistol grip, front sight and bipod. It is possible that Mark Hoffman obtained this gun from the police evidence locker.
Ad blocker interference detected!
Wikia is a free-to-use site that makes money from advertising. We have a modified experience for viewers using ad blockers

Wikia is not accessible if you've made further modifications. Remove the custom ad blocker rule(s) and the page will load as expected.