Saw
Talk

0
483pages on
this wiki
Saw is the 1st installment of the Saw horror film series. Directed by James Wan and written by Wan and Leigh Whannell, Saw was filmed during only 18 days of production. It was first shown at the Sundance Film Festival in early 2004 and saw international release later that year on October 29th. Saw is essentially an expansion of Wan and Whannell's 2003 short film of the same name. The film's story revolves around 2 men who are kidnapped, locked in an industrial bathroom and given instructions related to escaping. Meanwhile, police detectives investigate and attempt to apprehend the criminal responsible, the "Jigsaw Killer". Originally rated NC-17 for strong, graphic violence, the film was slightly edited to achieve an R rating. The unrated version is available as the Saw: Uncut Edition, a DVD Special Edition that was released around the same time that Saw II was released theatrically.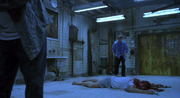 Adam Stanheight
awakens in a bathtub in a dark room. He hears a man's voice from the other side of the room. The man turns the lights on, revealing that they are in an indsutrial bathroom and that their right feet are chained to a pipe. The man introduces himself as
Lawrence Gordon
and tells Adam that they must guess why they were there. The two men discover a dead body in the middle of the room, who has a tape player and a gun. Adam and Lawrence discover a tape (and Lawrence also finds a bullet and key with it) in their pockets with the phrase: "Play me". Adam reaches the player using his jacket and the tape reveals to him that he must escape the bathroom before he dies. Lawrence's tape reveals that he must kill Adam before six'o clock or otherwise
Alison
and
Diana
will die. Lawrence plays back his tape and discovers a secret message, which gets Adam to discover two hacksaws inside the toilet. Adam's saw breaks as he tries to cut his chain and Lawrence discovers that the saws are meant to cut their feet. After hearing the tape, Lawrence says that he knows their possible kidnapper: a man who sets up traps to test people's survival instinct and the police had called him
Jigsaw
. Five months before the capture of Adam and Lawrence, In the crime scene of a man,
Detective David Tapp
,
Detective Steven Sing
and
Detective Allison Kerry
discover a penlight. The fingerprints on it reveals that it belongs to Lawrence Gordon, and Tapp and Sing go to the hospital and take him to the comissionary to interrogate him, while he was talking about the cancer state of
John Kramer
to his students and orderly
Zep Hindle
. The detectives confirm Lawrence's innocence and invite him to see
Amanda Young
's story of how she survived a Jigsaw's trap. Amanda woke up with a Reverse Bear Trap that will rip her jaws open. In order to escape, she has to find the key that is in her unconscious cell mate's stomach. Amanda kills him by cutting his stomach open and grabs the key. Amanda then uses the key to unlock the device and removes it from her head right before it activates. Meanwhile in the bathroom, Adam and Lawrence discover that behind a two face mirror there is camera, and there is a man watching and listening them. Lawrence remembers his last day at his home: he said goodbye to his daughter Diana before going to work and had and argument with his wife before leaving. Unknown to him, the man that is watching them was hiding in Diana's closet and after the doctor leaves, he captures the girl and her mother. In the bathroom, Lawrence gives his wallet to Adam and he discovers a photo of Alison and Diana captured at the doctor's house and in the backside there was a message that they must look with their eyes closed. To prevent scaring the doctor, Adam hides the photo. The man that has the doctor's family capturedgets near to a window and a guy takes a photo of him from his house. This guy is David Tapp, who is now living near to the Gordon's house and is constantly watching them because he is conviced that Lawrence is Jigsaw. After leaving Lawrence in his house after listening to Amanda's story, Tapp discovered that Jigsaw is hiding in a building after investigating Amanda's instruction tape. Tapp and Sing arrive at the building and discover a man tied to a chair. Jigsaw arrives as the detectives hide. As the killer is giving instructions, Tapp and Sing try to arrest him and Jigsaw activates Jeff's trap that was going to kill him in 20 seconds and flees. Sing deactivates the trap by shooting it and Tapp persues Jigsaw. Jigsaw cuts Tapp's throat(The closest Jigsaw came to killing someone himself.) and leaves him to bleed out on the floor. Sing chases after him but in the way he actives a trap that shoots four shotguns at his head, killing him. After this, Jigsaw escapes and Tapp is discharged from the police force and he becomes obsessed with capturing Jigsaw. In the bathroom, Lawrence gives his wallet to Adam and he discovers a photo of Alison and Diana captured at the doctor's house and in the backside there was a message that they must look with their eyes closed. Following the instructions of the photo, Adam tells Lawrence to turn the lights off. Adam discovers that on a wall next to Lawrence there was an X written with fluorescent paint. Lawrence breakes the X with the hacksaw and discovers a small chest. Lawrence opens it with the key that he found in his pocket and finds a cell phone, a lighter and a cigarette. Lawrence tries to call the police but the phone is made to recieve calls and the doctor remembers his capturing: he was going to his car in a parking lot and a man takes a photo of him but Lawrence didn't see him. He tried to call home but the cell phone couldn't make the call. Then, a masked figure gets out of his car and captures him. There was also a note inside the chest, that tells Lawrence that he doesn't need a gun to kill Adam. Lawrence turns off the lights to prevent the kidnapper hear them and he tells Adam that they are going to pretend his death. Lawrence truns the lights on and wets the cigarette with the body's poisoned blood and gives it and the lighter to Adam. Adam pretends smoking and dying of poisoning but someone actives a device in his chain and electrocutes him and the plan fails. Adam then remembers his capture: he got home to reveal photos (Adam is a photographer) and he fell asleep. Later, a noise in the apartment wakes him. Adam goes through his dark apartment with a bat, using his camera flash for lighting and discovers a
puppet
on his couch and a masked figure captures him from behind. In the bathroom, the phone starts ringing and Lawrence answers it. It was his scared daughter Diana, who was being helding hostage at his home with her mother. Then, Alison tells her husband that Adam knows him and that he is a liar. Adam reveals to Lawrence that he was following him for the last few days taking photos of him and that he was the man that took a photo of him in the parking lot and shows him all the photos that he took to him (which were in the bag that contained the two hacksaws). Adam tells Lawrence that he followed him to a motel last day. Inside, Lawrence goes to a room with a medicine student of the hospital,
Carla Song
. Lawrence tells her that he is sick that she is calling his home and decides to leave but the phone starts ringing. Lawrence answers it and hears a voice that tells him that he knows what the he is doing. Then, he went to the parking lot where he got captured. Lawrence angrily demands who is paying Adam to follow him and the young man reveals that is a tall black guy with a scar in his neck. Lawrence recognizes him as Detective Tapp. Lawrence tells to Adam that he was not cheating on his wife. In the Gordon's house, while the kidnapper is watching the cameras, Alison unties herself and her daughter. Among Adam's photos, Lawrence find the one that Tapp took to the man in his house. Lawrence recognizes the man as Zep Hindle. Adam then notices that is six'o clock. After this, Zep goes to tell Alison that he must do his work and makes her call her husband to inform him that he failed. While she is talking, she attacks Zep and gets his gun and talks with Lawrence. Alison distracts Zep for a moment and Zep ambushes her and they start fighting for the gun. The gunshots are heard by Lawrence and Tapp, who runs with his gun to the doctor's house. The calls ends and Lawrence gets electrocuted and throws the phone away. While, Tapp enters the house and starts a gunfire with Zep and Alison and Diana escape. Zep hits Tapp with a vase and runs to his car to go kill Lawrence and Adam. Tapp recovers and follows him. They arrive at the sewers and start a race to the bathroom. Lawrence recovers and the phone starts ringing. As he is unable to reach it, he starts screaming and then he takes off his shirt and ties it to his leg and bites the sleeve. He grabs the hacksaw and strats cutting his chained foot. After ending this, Lawrence reaches the gun and reloades it with the bullet he found. Then he shoots Adam and demands to see his family. Tapp reaches Zep and starts fighting him. When he catches Zep's arms, Zep shoots him in the stomach and Tapp dies. Zep arrives to the bathroom where he prepares to kill Lawrence. Then, Adam stands up and throws Zep to the ground and hits him with the toilet lid in the head multiple times, killing him. Lawrence then tells Adam that he must go get help and leaves the bathroom. Adam then starts searching for the key of the chains in Zep's clothes. But Adam finds a tape player that reveals to him that Zep was a Jigsaw victim: he had a slow acting poison running through his blood system and if he wants to get the antidote, he must kill Alison and Diana. A shocked Adam watches as the dead body stands up and reveals himself as John Kramer, the real Jigsaw killer. Kramer tells to him that the key for the chain is in the bathtub and Adam remembers that when he woke up in the bathtub, the key flushed away with the water. Adam tries to shoot Kramer but the killer electrocutes him with a control and Adam throws the gun away. Jigsaw says in a voiceover that most people are so ungrateful to be alive, "But not you. Not anymore." Then he turns off the lights and seals Adam inside the bathroom as he screams, leaving him to die.
Reception
Edit
SAW was a financial success. Shot on a meager budget of about US$1.2 million, it earned over $55 million at the box office in the U.S. alone and $102,917,772 worldwide.http://imdb.com/title/tt0387564/business Box Office revenue Critical responses were mixed. It earned a 46% rating from Rotten Tomatoes, and a 29% rating from the most esteemed professional critics, qualifying it as "rotten." Despite the mixed critical response, the movie attracted a strong following and spawned over 4 sequels. Noted critic Roger Ebert called SAW "an efficiently made thriller" but "finally not quite worth the ordeal it puts us through." [1] Other reviewers, however, were not so lenient, such as Paul Matwychuk, who described it as "convoluted" and its twist ending as "ludicrous".http://www.vueweekly.com/article.php?id=777 ==Impact== With the emergence of the torture genre in the 2000s, the SAW film series, along with similar films such as Hostel and The Devil's Rejects, is frequently singled out as an example of the prevalence of exploitive graphic violence and gore in horror films. SAW occupies the third slot on Bravo's Even Scarier Movie Moments for the scene in which Lawrence cuts off his own foot. PopSyndicate.com forums This scene, Amanda's test and the razor wire maze scene were grouped among the scariest film scenes of all time on FilmSite. Scariest Movie Moments and Scenes The movie was also added on Empire's The 500 Greatest Movies Of All Time list.Critic Richard Roeper praised Saw,stating that Saw is by far,one of the greatest horror films I have ever seen in my life.I don't like it,I love it. Roeper gave the film three out of four stars.
Soundtrack
Edit
Main Article: Saw (soundtrack) Megadeth's song "Die Dead Enough" was originally set to be featured in the movie,Blabbermouth.net but was not used for undisclosed reasons.Blabbermouth.net
Uncut Edition
Edit
The uncut edition of the film is approximately eight seconds longer than the theatrical version. The additional footage includes:
An extra close-up shot of the body on the floor, which shows the extent of the "gunshot wound" on the back of the head.
A few extra seconds of Paul crawling through the razor wire.
A few extra shots of Amanda sifting through the intestines and stomach of Donnie Greco, who she kills.
An extra shot of Lawrence sawing into his foot, which shows more blood.
However, in addition to the new footage, the dialogue between Lawrence and Adam in the end, just before Lawrence leaves, has been shortened.
There is also an Easter egg on the uncut DVD titled "See Saw in 60," which consists of three jumpy and humorous one-minute condensed versions of the film. Two are presented using dolls with crude faces drawn on them; sound clips from the movie are used for one, high-pitched squeaky voices for the other. The third is made using actual footage from the movie and the squeaky voices. Similar Easter eggs were used on later uncut releases of the sequels.
Originally, Adam and Lawrence were to be trapped in a lift or a basement.
Director James Wan created Billy the Puppet for the film.
It was meant to be a straight-to-video release, but due to positive screenings it became a movie release.
Filmed in 18 days, with Pre-Production lasting only 5 days.
All the people killed in the film are men.
All corpses seen in the film were the actual actors, except for Mark Wilson's burnt corpse which is a dummy.
Shawnee Smith (Amanda) filmed all her scenes in one day.
Producer Oren Koules cameos Donnie Greco.
All the Bathroom scenes were filmed in six days in chronological order.
When Lawrence starts cutting his foot, actor Cary Elwes (Lawrence) actually scratched his foot despite the saw being blunt.
Leigh Whannell not only plays Adam in the film, he also played Sing during reshoots when the actor was unavailable. He plays Sing when he gets shot.
Sing's chase after Jigsaw was the last scene filmed.
Director James Wan did not get paid and instead got a percentage of the profits.
The map used by detectives Tapp and Sing when reviewing locations of fire alarm reports was that of Washington D.C.
After Lawrence cut off his foot , in a scene where he tries to shoot at Zep with empty revolver his presumably severed right foot isn't removed, actor is only wearing black shaggy sock. GRAPHICAL SOURCE
Despite Jigsaw claiming he detests killing (Saw II) he orders Zep to kill Lawrence's family if he fails his game.
Saw, the original 2003 short film
Saw: Rebirth, the comic book prequel to Saw
References
Edit
External links
Edit