WELCOME TO THE SAW WIKI
Hello,

Jigsaw followers

. Welcome to the Saw Wiki, a wiki that serves as a collaborative encyclopedia of information and details on the iconic horror franchise, Saw. The Saw Wiki started in September of 2006, and currently has 27 users and 2 admins maintaining 607 articles. We are always searching for new disciples to continue our legacy and make this wiki as detailed and informative as possible. If you'd like to join our horde, feel free to help by creating or editing articles, but before you do so, be sure to read our policies to obtain the rules of your test. Thanks for visiting, and let the games begin.
Warning: This wiki contains graphic/disturbing images and plotlines, so please continue browsing at your own risk.
Today is August 15, 2018, and there are 52,799 edits on this wiki.
FEATURED ARTICLE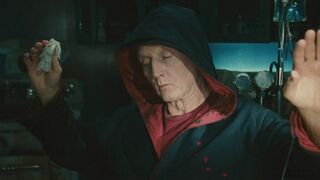 John Kramer, more commonly known as the Jigsaw Killer, is a fictional character from the Saw franchise, as well as the series' main antagonist. He is portrayed by Tobin Bell.
John Kramer was a successful civil engineer and the founder of the Urban Renewal Group, a foundation dedicated to property development for needy people, which was supported by his friend and lawyer, Art Blank. John was married to Jill Tuck and encouraged her to open the Homeward Bound Clinic, a recovery clinic for drug addicts under the motto, "Cherish your life." Jill and John were expecting a child together, and John soon became worried about Jill's safety at her clinic when he interrupted a brawl between two patients, Cecil Adams and Gus Colyard. Moments later, he saw Cecil coming out of the clinic. He was running away after he had attempted to rob Jill and accidentally slammed a doorknob into Jill's stomach, who was in her seventh month of pregnancy at this time, causing a miscarriage.
Following his son's death, John suffered from severe depression, causing him to withdraw from both his wife and the Urban Renewal Group. He later attempted to commit suicide by driving his car off a cliff, but unexpectedly survived the crash despite being heavily injured. When he climbed out of the wreck, John realized that only when his death was imminent he finally began to actually appreciate his life. As he observed other people wasting their lives, he decided to spend the rest of his life on testing other peoples' will to survive, hoping to make them appreciate their lives just as he did.
HELPING OUT
Our goal at Saw Wiki is to collaborate with other fans in order to build an accurate database detailing the characters, traps, and storylines of the entire Saw franchise. All are welcome to join in and contribute here, as long as edits are constructive, discussions are positive, and all information is relevant to the series.

We are currently housing 607 articles and 4,098 files.
We have a growing community of 27 users, but the last piece of the puzzle is YOU.

To join our legacy, please sign up to create a FREE personal account, or log in if you already have one.

If you're new to Wikia, please use the above links to get started.
If you're experienced with editing and have already read over the rules of your test, you can use the box below to contribute a Saw related article:

If you're looking to help with cleanup, you can start here:
NEW RELEASE
— IN THEATERS NOW —
You thought it was over, but the games have only just begun.
QUOTE
"

By creating a legacy, by living a life worth remembering, you become immortal.

"

— Amanda
POLLS
What did you think of the Jigsaw film?
What is the best Saw movie?
Who is your favorite antagonist?
DISCORD
If you see this, your JavaScript might be disabled or DiscordIntegrator plugin isn't working. If the latter, please contact a wiki administrator.
Please read the rules before joining chat!
BLOGS
Create blog post
Lately, my head is full of saw traps design and I wanted to know if some of you guys have an idea that I could try designing on paper for you, that would be amazing...😅 I know that sounds weird but h…

Read more >

now,I'm a really big fan of saw. that's why I made a fanmade saw trap. a man's feet are chained to a conveyor belt. the conveyor belt goes tword a buzzsaw powered by a sires of cog wheel. if he doesn…

Read more >
See more >
EXTERNAL LINKS