"
The room's been rented for the past six days to a lawyer named Art Blank. Get this: he went missing two weeks ago.
"

— Lamanna informs Strahm and Perez about Art Blank
Officer Lamanna is a fictional character from the Saw franchise as well as a minor protagonist in Saw IV. He was portrayed by Simon Reynolds.
Biography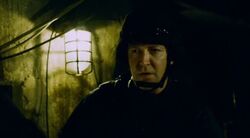 Lamanna was an officer working for the Metropolitan Police Department and a member of a SWAT team led by Lieutenant Daniel Rigg. At one point, he got involved in the case of serial killer John Kramer, better known as the Jigsaw Killer. Six months after the reveal of John Kramer's true identity and his escape from the police, the SWAT team was called to a basement. Rigg and Lamanna led the team and were accompanied by Detective Mark Hoffman, the leading investigator in the case. Together, they entered the area and found a chain link door. When they discovered a device connected to the door, Hoffman ordered them to send in a tactical robot before entering. Rigg ordered Officer Pete Baker to cut a hole in the door and send the robot in. The robot slowly made its way through the lower floor and reached a corpse hanging from the ceiling. When the camera of the robot eventually captured the person's face, Rigg realized it was Detective Allison Kerry, who had been missing for four days. Horrified by the discovery, Rigg broke through the door and ran to her, thinking he could still save her. However, when he finally reached her, he realized that she had been killed by one of Jigsaw's traps. Seconds later, the remaining SWAT officers entered the lower floor of the basement. Upon the discovery of Kerry's corpse, Lamanna called for the coroner.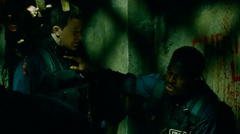 After securing the crime scene, a depressed Rigg sat down and observed the work of the forensic team. He asked Lamanna to cut down Kerry's mutilated corpse. Lamanna replied that he couldn't do this, but Rigg repeated his plea, as he wanted to bestow at least some respect to her. He then left Lamanna alone when Hoffman approached him. Initially angry at him, Hoffman reminded Rigg that he should know not to go through an unsecured door, but calmed down when Rigg told him that he thought he could have saved Kerry. Depressed by the discovery of their partner, they talked about their work and how they could still go on. Hoffman then noticed a message written on the wall which said "Cherish your life." Rigg asked him how they could if this was their life, to which Hoffman merely responded that they chose it and told Rigg to go home. (Saw IV)
Later that day, the SWAT team was called to Rigg's apartment at 23 Park Place after a reported shooting. Therefore, Lamanna took over the lead of the team and they invaded the apartment. When entering the living room, they found the humiliated corpse of Brenda, another Jigsaw victim, while Rigg had disappeared as he was forced to play one of Jigsaw's games on his own. Shortly afterwards, the forensic team arrived along with Special Agent Peter Strahm and Special Agent Lindsey Perez, who began their investigation. Meanwhile, Lamanna and Detective Fisk unsuccessfully tried to contact Rigg's wife, Tracy. When Strahm saw numerous photos on the wall and noticed one of Detective Hoffman, he asked Lamanna for his whereabouts. However, the attempts to call Hoffman remained unsuccessful as well.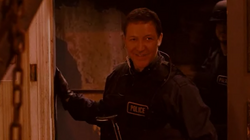 Shortly afterwards the SWAT was called to the Alexander Motel. When they arrived there, they went to room 261 on the first floor where they found the dismembered body of the motel's proprietor, Ivan Landsness, whose limbs had been torn apart by another Jigsaw trap. Again they called for the special agents and the forensic team who appeared only minutes later. While they investigated the crime scene, Lamanna found out that the room had been rented for the last six days by a lawyer named Art Blank, who had been reported missing two weeks earlier. Agent Strahm ordered him to find out his address. Moments later, Lamanna told them that Art owned several proerties, the last known address being only to blocks away. Therefore, they went to the address and entered the basement. After securing the area, they found two labelled files left there for the agents, which led them to the conclusion that they were Jigsaw's targets.
The SWAT was called again that night and was sent to an elementary school after someone had activated the fire alarm. When they entered the school, they soon found Morgan and Rex, who had been trapped there and whose bodies had been impaled by numerous metal spikes. While Rex had died from bloodloss after Morgan had removed the spikes, his wife was still alive. The officers called for the CSI team and Strahm and Perez again who arrived shortly afterwards. However moments after her arrival, one of the forensic investigators accidently activated a device which shot a spike in Perez' direction. Peter Strahm managed to pull her away but instead the spike pierced the head of a police photographer, while Lamanna and the other officers watched in horror. (Saw IV)
Personality
Not much can be said about Lamanna's personality due to his short screen time. However, it can be assumed that he was a quite responsible and very experienced officer as he was trusted to take on Rigg's role as the team leader after the latter went missing.
Appearances and References
Ad blocker interference detected!
Wikia is a free-to-use site that makes money from advertising. We have a modified experience for viewers using ad blockers

Wikia is not accessible if you've made further modifications. Remove the custom ad blocker rule(s) and the page will load as expected.