The
Gideon Meatpacking Plant
was the first building
John Kramer
had ever built as an engineer. It was never revealed in which town it stood and when it was built precisely.
Art Blank
, John's lawyer, helped him to realize the building's construction.
The building was first seen in Saw III, being the location of Jeff's tests.
During Jeff's game, there was another game going on at the same time. It was the game of SWAT officer Rigg.
While these two games were running concurrently, John's wife Jill had a hearing with FBI agent
Strahm
. In this conversation Jill told a lot about John's past, and also about the Plant. She told Strahm that it was the first buiding John ever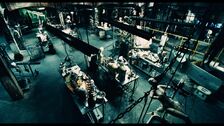 built and that the name of the building came from his unborn son's name (
Gideon
). Hours later Strahm found out that Gideon Meatpacking was the building where the games were going on.
Saw V was the last time the building was seen in the Saw series. Strahm was left to die in a trap after he refused to listen and Hoffman came out the building with Corbett Denlon in his hands. All the people who were in the building were deceased except for Peter Strahm, Mark Hoffman and Corbett.
Hours before Hoffman saved and carried Corbett out of the plant, Amanda came by Corbett's cell and told her not to trust him. It's heavily implied at the end of Saw VI that she had informed Lindsey Perez and Dan Erickson about what Amanda had said, which likely furthered their suspicion of Hoffman.
People who died in the building.
Traps/Tests in the building
The Ice Block Trap is the only trap of Rigg's Tests that took place in the Gideon Meatpacking Plant.
Ad blocker interference detected!
Wikia is a free-to-use site that makes money from advertising. We have a modified experience for viewers using ad blockers

Wikia is not accessible if you've made further modifications. Remove the custom ad blocker rule(s) and the page will load as expected.