Evan

Biographical Information
Appearances
Saw 3D
Status
Deceased
Died In
Saw 3D
Cause of Death
Force of impact
Role
Test subject
Reason Tested
Racism
Relationships
Jake (friend, deceased)
Portrayed by
Chester Bennington
Evan was one of the Skinheads who were trapped in the Horsepower Trap in Saw 3D. He was portrayed by Chester Bennington.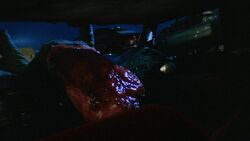 Evan was the leader of a small group of racist skinheads consisting of him, his friends Dan and Jake, and his girlfriend Kara. He was targeted and put in a trap by Mark Hoffman along with his girlfriend and friends. When he woke up, his back was glued to the driver's seat of a jacked up car in a garage at Pete's Auto Body. An audio tape told him that he had 30 seconds to tear himself away from the seat and pull a red lever in front of him in order to stop the car from speeding up and starting a deadly chain reaction which would kill him and his friends. Incited by his fear and his friends desperately yelling at him, Evan managed to rip off most of the skin from his back, but ultimately failed to fulfill his task in the time allotted. This caused the jacks holding up the car to fall, and Kara, who was tied up under the car, was crushed to death by the rear tire. When the car started to drive off, Dan's arms, along with his jaw, that were pierced by chains connected to the back of the car, were ripped from his body. The car then crushed through the garage door, killing Jake who was chained to the door. Despite his desperate efforts to gain control over the car, Evan ultimately crashed head on into another car in the junkyard, which caused him to be ejected out of his car and thrown right into the other car's window.
Later on, when the police arrived at the crime scene, Evan's body was briefly examined by a member of the forensic team, but Detective Matt Gibson eventually decided to send the corpses to Dr. Heffner for further examination.
Trivia
Evan is played by Chester Bennington who is the lead vocalist and songwriter of the rock band Linkin Park.
Originally Evan was planned to survive, but this was changed due to Chester Bennington being on a tight schedule which prevented him from filming the scene of Evan being taken to the hospital.
Ad blocker interference detected!
Wikia is a free-to-use site that makes money from advertising. We have a modified experience for viewers using ad blockers

Wikia is not accessible if you've made further modifications. Remove the custom ad blocker rule(s) and the page will load as expected.