Tapp arrived at his first test to find Amanda Young strapped to a chair with two needles injecting a red liquid into her wrists. Tapp was instructed to sit in the chair next to her and allow himself to be injected with a blue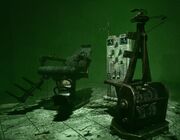 liquid. Each individual had a poison acting throughout their bodies and it was up to Tapp to ensure that the correct antidotes were mixed using the machine in between the two and also to make sure that neither person flatlined. Tapp succeeded, but unbeknownst to him, Amanda had been working alongside Jigsaw and allowed herself to be abducted before allowing Tapp to continue through the Asylum. Amanda was supposedly placed in this trap because she did not learn from her first test, however it was revealed that she was simply there to test Tapp.
Hello Amanda, you remember me. I want to play a game. You told our friend, the detective, that I saved you, but you forgot your lesson. You damaged your body with drugs and pain. Now the needle will save your life. Each of you will be injected with poisons that will slowly break down your bodies. The device in front of you contains the antidote to each of the poisons. The red vials go to the left, and the blue vials go to the right, but be careful. Incorrectly mixing the antidotes will cause some... discomfort. The last time we played, you freed yourself by taking a life. Now your only salvation is to put your trust in someone else. Live or die, Amanda.
Jigsaw explaining the game
Ad blocker interference detected!
Wikia is a free-to-use site that makes money from advertising. We have a modified experience for viewers using ad blockers

Wikia is not accessible if you've made further modifications. Remove the custom ad blocker rule(s) and the page will load as expected.