If the player chooses to save Campbell, he will enter the elevator, which takes him to an in-person confrontation with Jigsaw in a doorway. Campbell is told that his son is safe, but he becomes hysterical and lunges at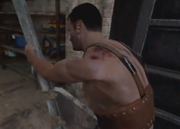 Jigsaw and is impaled by a hidden swinging scythe.
Dialogue between Jigsaw and Campbell:
Jigsaw: Hello Campbell. Your son is unharmed. He came to me seeking answers, and he found them, in the love of his father. Your willingness to sacrifice everything for a son you never knew was your test, and you passed. Now all you have to do is turn around and walk away. Go see your son.
Campbell: So he's safe? He's not here?
Jigsaw: Far away from this place.
Campbell: I can't let him live in a world with people like you in it! [Charges at Jigsaw and is impaled by a swinging scythe]
Jigsaw: Game Over.
Ad blocker interference detected!
Wikia is a free-to-use site that makes money from advertising. We have a modified experience for viewers using ad blockers

Wikia is not accessible if you've made further modifications. Remove the custom ad blocker rule(s) and the page will load as expected.